Goodbye and Good luck
Goodbye and Good luck
11 January 2022 (by Darren Campbell (darrencampbell))
'The children and staff at BWJS said a fond farewell today to Mrs. Stacey Mogg.'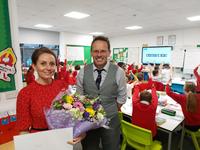 Mrs. Mogg has been employed at BWJS as a Teaching Assistant - supporting pupils in Y5 (Tamarind) with their learning.
An opportunity has arisen for Mrs. Mogg to experience a change in career.
On behalf of everyone at the school, I wish her the very best of luck for the future.
Mr. D Campbell
** Mrs. Sarah Slaughter has recently been appointed and she will take on the role of Y5 TA from Monday 17th January.
Share this: