Year 5 Update
Year 5 Update
11 January 2022 (by Darren Campbell (darrencampbell))
'What have Y5 pupils been up to since returning to school?'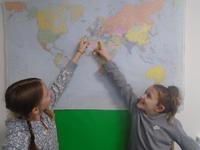 Happy New Year!
We've been really impressed with the attitude of the children on their return to school. They've been enthusiastic about their new topics and continuing the science unit investigating our solar system.
Geography
This term's unit of activities is all about La Plagne, France. Although they know nothing about this place the year group are already discussing similarities they believe would occur with Bishop's Waltham. Using atlases, maps and globe we started the unit by researching and building our knowledge of Europe. They really enjoyed this and it was wonderful seeing them broadening their knowledge about this continent.
Science
This week the year group researched the planets of our solar system in more depth. After focusing on one planet they then shared their findings with other children. It was a great activity to improve their knowledge and also use the school value of collaboration, which they did in a fantastic fashion. We look forward to seeing how they present their findings in their individual fact files!
PE
We also started a new unit in PE – Dance! Again, we were pleased with how everyone participated in this, even though some were apprehensive to begin with. Starting with simple moves repeated 4 times, the children eventually constructed a simple dance routine based on movies and tv programmes. From Titanic to Peppa Pig the routines were entertaining and clear enough for the audience to know the films that were being represented. Well done Year 5, I know you're going to enjoy the rest of our dance unit.
Happy New Year from the Year 5 team
Share this: