Year 3 Update
Year 3 Update
14 January 2022 (by Darren Campbell (darrencampbell))
'What have the Y3 pupils been up to over the last 2 weeks?'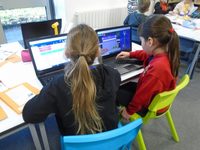 Year 3 returned to school after the Christmas break with positive attitudes and have thrown themselves into some exciting new topics these past two weeks.
English
We have started to read the classic book 'The Iron Man' by Ted Hughes and have enjoyed describing him using similes and alliteration. This week, we have looked at wanted posters, and have written our own using these sentence-level features, and persuasive rhetorical questions.
PE
We have planned our new dance unit to fit in with our Iron Man topic. Today, the children enjoyed thinking about the robotic way in which the Iron Man might move, and learnt and adapted the Jazz Square move in role, choregraphing an 8-count sequence in groups of 4.
Maths
Following our lessons about telling the time and calculating time differences, this week we have moved on to revisit length as a measure. Yesterday, the children enjoyed estimating objects in the classroom that were longer than or shorter than a metre. They then used metre sticks to check, with some children recording the actual measurements. We also used a trundle wheel and found that our (Gingko) classroom measures 7m from the whiteboard to the back wall!
During Friday Maths lessons, we have continued to focus on our times table knowledge, using a range of techniques to learn and embed these.
DT and Computing
This half term, we are enjoying a joint DT and computing project where children will experience digital photography and digital design in Computing lessons, in order to create a picture for a photograph frame which they are designing and making in DT. So far in DT, we have explored various shell structures (looking at features such as strength, stability and design for purpose) and have analysed a range of photo frames bought in by the year group staff. They are very much looking forward to moving onto the design phase where they will be designing with a particular recipient in mind (shh, it's a secret!).
A belated Happy New Year from the Year 3 Team!
Share this: