Taekwondo Success:
Taekwondo Success:
20 June 2022 (by Darren Campbell (darrencampbell))
On Saturday 18th June, Theo (Y4) and some of the other students from his martial arts club attended a TaeKwonDo tournament in Hamble against teams from Basingstoke and Reading.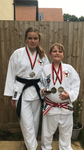 After a long day and some tough competition, Theo walked away with a silver for board breaking, a bronze for forms (pattern of moves) and a bronze for sparring.
Theo's older sister Faith (a former student at BWJS) also attended and got a silver for sparring in her division.
We are so proud of both of you and your achievements
#outofschoolachievements
Share this: