BWJS Eco Champions Litter Project
BWJS Eco Champions Litter Project
21 June 2022 (by Darren Campbell (darrencampbell))
In a bid to keep Bishop's Waltham Junior School free from litter, the Eco Champions have organised a rota of LITTER PICKERS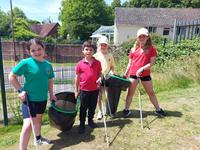 Over a 100 pupils signed up to assist in the project, working in small groups for the remainder of the academic year – under the direction of Mrs. White.
Mr. Campbell also received a letter from the Eco Champions requesting some additional waste bins for the playground in readiness for the increase in pupil numbers. These will be ordered ready for September.
To find out more about the work of the Eco Champions please visit the school website using the link below.
Share this: