Roynon Performing Arts - X3 Trial Sessions
Roynon Performing Arts - X3 Trial Sessions
13 July 2022 (by Darren Campbell (darrencampbell))
Roynon Performing Arts are a dedicated, passionate creative arts school established for over 40 years, delivering over 20 different genres of dance, music and drama for all ages and abilities.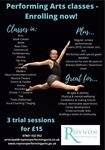 From ballet to tap, vocal coaching through to samba drumming, Roynon have supported and nurtured 10,000s of students over the years and have something on offer for everyone. What's more, RPA classes are a great way to further support physical and mental wellbeing, community/friendship links, career progression in the arts and developing key life skills...
RPA strive to make every learning experience meaningful and contribute towards every step of the learning journey for each student, whether this is in the studio, graded exams or performances. Roynon are proud of their dedicated, qualified and experienced teaching team and as a result of which have built a bank of amazing industry contacts which has then led to some unique, one-of-a-kind opportunities for RPA students.
Roynon Performing Arts are proud to offer all new students x3 trial sessions for a discounted rate of £15 (direct link below).
Please feel free to contact Miss Sarah at any time via principal@roynonperformingarts.co.uk or via social media and her or one of the Roynon team will be only too pleased to help.
Share this: