Long Distance Trail - What an achievement!
Long Distance Trail - What an achievement!
14 July 2022 (by Darren Campbell (darrencampbell))
This spring, Emma (Y5) has been walking a long distance trail; The Grand Union Canal from London to Birmingham.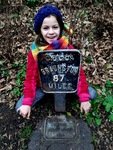 The trail totals around 150 miles.
Starting at Paddington Station, she has walked through many towns and cities such as Uxbridge, Hemel Hempstead, Watford, Milton Keynes, Leamington Spa and Warwick just to name a few.
There has been lots of beautiful countryside as she has passed through 7 different counties.
We have learned so much about the industrial history of England, it has been really interesting too.
Emma has pushed herself to walk really long distances in a day, up to 25km on some days. She has (mainly) laughed, smiled and giggled her way through and made it such a lovely experience for her whole family.
There is one stretch left - 17 miles - which she will complete the first day of the summer holidays when she will arrive in Birmingham. I *might* buy her an icecream to celebrate!
Thank you Emma for keeping us all going, especially when our legs were tired!
We are very proud of you.
Mum and Dad
Share this: