Freedom Dance Academy
Freedom Dance Academy
15 July 2022 (by Darren Campbell (darrencampbell))
'Year 3 pupils perform in local dance show'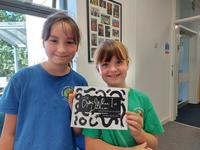 Katy F & Eleanor P (Y3) are members of the local 'Freedom Dance Academy.' They rehearse at Priory Park and on Saturday 9th July they both performed a range of dances in a show called 'Better when I'm dancin.'
Both girls reported that they loved the experience even though it was a little scary.
They enjoyed having friends and family watch from the audience.
The girls now get the summer off and return in September for more dancing :)
PS: There was no 'g' at the end of dancing! Guess they call that fashion.
Share this: