Taekwondo Success
Taekwondo Success
21 July 2022 (by Darren Campbell (darrencampbell))
On Saturday 16th July, Edo (Y6) graded for his Junior Black Belt in Taekwondo.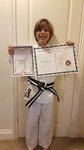 The grading lasted 3 hours and was a very intense (and warm!!) experience.
Edo had to know his form (pattern of moves), as well as other colour belt forms.
There were numerous drills to perform, self-defence moves to demonstrate, boards to break and several rounds of sparring to complete!
Edo showed great perseverance and resilience and we are very proud of him.
Well done Edo
Very proud parents
Share this: